POS Software , POS Hardware , varying Scales .
Thermal printers , price checkers, Scanners , solutions
There are many ways to goal, We create the optimal one.
Double body design
High range scales, with printer for labels or receipts. Double body or Hanging ABS format
| | | |
| --- | --- | --- |
| | | |
| MISTRAL Series | Double body (dim. in ABS) | Hanging ABS (dim. in mm) |
MISTRAL is one entry series of scales of Dibal 500 Range, a new family of scales outstanding for its design, technology and ease of use.

M-515: 2.000 PLUs (45x2 + 4x2 presets). 5 vendors. Printer for labels or receipts.
M-525: 5.000 PLUs (70x2 + 9x2 presets). 10 vendors. Printer for labels or receipts.

Mono-range: 15 kg - 5 g, 12 kg - 2 g, 30 kg - 5 g.
Multi-range: 6 kg - 2 g # 15 kg - 5 g, 15 kg - 5 g # 30 kg - 10 g.

MISTRAL Series scales offer a choice of 2 different displays: "superlux" segments display or graphic display.
Both of them can show Weight, Tare, Price, Total and Name of the Product.
Additionally, graphic display can show logos, profitability codes (in vendor display), publicity with special dynamic effects, …

Complete information for each PLU, including: normal and offer price, prices per weight bands, prices per kg and 100 g, name (2 lines x 20 characters), free information, profitability code, ...
Sales and Management Reports: sales, cash drawer report, last modified PLUs, ...

Easy to program and operate

MISTRAL Series Scales have been designed thinking of the needs and skills of users and service departments:
- "Drill-Down" Menus: simmilar to those in mobile phones.
- Menus can be printed (total or partial) in the scale.
- Special keys for direct access to main functions: change a price, include a new PLU/vendor, sales reports....
- Direct access to 999 PLUs, ex.: to access PLU 568, you just press keys 5-6-8 in the first preset keys row.
- Security: configurable password system.
- Internal software ("firmware") updateable from PC.

High speed communication between scales and with PC, via ETHERNET TCP / IP or, as an option, through wire-less technology (Wi-Fi 802.11n RF) or HOMEPLUG.
Interconnection between 5 scales (M-515) or 10 scales (M-525) per section, Master + Submaster + Slaves system.

MISTRAL Series scales incorporate a high resolution and fast printer (up to 100 mm per second, depending on model).
Change of paper roll is done easily featuring a cassette system for the label printer.
Receipts and labels design and information to be printed are fully configurable:
Receipts:
- Up to 3 different formats.
- Logos.
- Clients on account.
- 9 Payment modes.
- Total in €, old national currency (€ countries), national currency and 2 additional currencies.
- Discounts on line and total,…
Labels:
- Up to 30 different formats.
- Labels from 30x30 to 60x100 mm.
- Logos.
- Traceability.
- Prepacking mode.
- 3 levels of totals (in prepacking, for boxes, containers, …).
- Selfservice mode.
- Continuous printing of a programmed number of copies of a label.

The system, operated in the scale, consists of:
- Entry of stock.
- Register of sales, deducted from Stock.
- Display and print reports of stock by PLU.
- Adjustment of Stock after physical inventory.
- Information can be sent to PC.

Including EU Bovine Meat Regulations and up to 2 programmable types of traceability (for meat, fish, fruits, vegetables, …).
Very easy programming.

When this option is activated, the scale will keep a full copy of all receipts printed during the fiscal period. They can be listed and sent to PC.

MISTRAL Series scales can print in receipts the most usual barcodes used in retail and industry: EAN-13 and GS1 DataBar*.
Some models also allow the connection of a scanner to read the information contained in these barcodes. And the scanners connected are powered by the scale.

Two programs are available to connect MISTRAL Series scales to PC (both running on Windows OS):
- RMS/DLD: full configuration of scales, including Labels/Receipts design (DLD) and full management of data received from scales (different warehouses, customers, suppliers, …).
- DFS: full configuration of scales and basic management of data received from scales. High speed communications, easy to operate and Multi IP connection, simultaneous to all Masters of the network.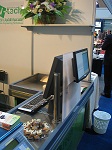 Scales

| | |
| --- | --- |
| | * Specifications are subject to change without prior notice |
---