POS Software , POS Hardware , varying Scales .
Thermal printers , price checkers, Scanners , solutions
There are many ways to goal, We create the optimal one.
The High Performance POS System with a Flexible Design Suitable to anyShop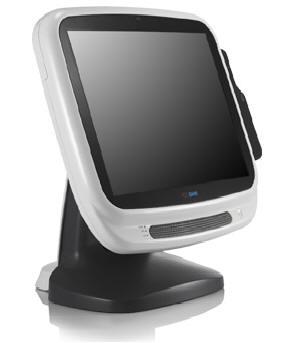 V-Shop is a wall mountable Panel POS system with advanced features and powerful functions, including an internal stereo and camera. The addition of a camera enables increased security against corruption with the ability to record all transactions during operation. AnyShop can also be selectively equipped with Intel Atom, Intel Celeron Mobile or Intel Core 2 Duo processor. Designed with simple maintenance in mind, AnyShop's hard disk can be easily inserted or removed with one simple touch. Also, considerate I/O connection design allows device cables to be hidden inside the system base and therefore simplifies cable management. Its exclusive shape and unique selection of color enable the system to completely match with any range of commercial areas.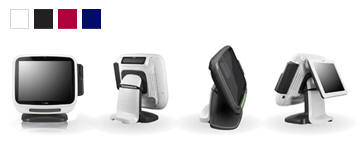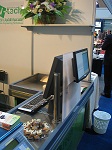 All in one POS

What's Special
V-Shop

Any Space Designed with user's requirement in mind, AnyShop provides a smart solution for any counter where space is premium. With its wall mounting fixture, AnyShop can be easily mounted in any location. The system will be an absolutely perfect solution for any daily and space saving required environment including hospitality, retail, entertainment, health care and other sectors

Powerful cooling system The air came into the system to be completely discharged immediately after circulating CPU; the most heat generator and each effective system heat sink. Also the specialized duct system blocks any flow back heat to the system. With this smart cooling guarantee stable performance and long life span.

Easy Maintenance


High serviceability mechanical design for easy HDD maintenance.
You need to release only one screw to reach HDD.
V-Shop_M
V-Shop_P
V-Shop_D5
CPU(Support)
Intel Celeron Mobile 1.5GHz
Intel Core 2 Duo processor
Intel Pineview-D D510
Chipset
Intel 91xGME
Intel 945GME
ICH8M
HDD
SATA 2.5inch (Default 160GB)
Memory
DDR2 SODIMM x 1slot(Default 1GB up to 2GB)
DDR2 SODIMM x 2slot(Default 1GB up to 4GB )
DDR2 SODIMM x 1slot(Default 1GB up to 2GB )
VGA
Intel 82915GM GMCH (Independent dual display)
Intel 82945GM GMCH (Independent dual display)
Intel Gen3.5+GFX Render Core
Display
15" TFT LCD with 5-wired resistive Touch Screen 1024 x 768 resolution
Internal I/O
USB
3 Ports (reserved for Touch controller, SCR EMV card, Camera, MSR controller)
PS/2
1 Keyboard with pin header
RS-232
COM 4 reserved for VFD
COM 5 , 6 with 9pin header
COM 3 with 9pin header
COM 5 , 6 with 9pin header
D-SUB
Reserved for 2nd display
Extension
MINI PCI
LVDS
Main display use
External I/O
Parallel
1 Port
USB
Rear 2, Side 2
PS/2
Mouse 1 / Keyboard 1
RS-232
COM 1 ~ 3 with +5/12V power output on 9pin
COM 1 ~ 2 with +5/12V power output on 9pin
COM 1 ~ 2 with +5/12V power output on 9pin
LAN
GbE LAN
Audio
Each 1 Line-out/ Line-in/ Mic
Options
MSR
Comply with ISO 7811, Support 1, 2 , 3 track
SCR
EMV level
Camera
Camera
Dallas
Dallas I-button reader
VFD
VFD type customer display (20 x 2)
2nd LCD
12.1" LCD : 1024 x 768 resolution
DVR
DVR Card : 4channel support
Wi-Fi
Mini PCI for wireless LAN
VGA
Mini PCI for VGA card
Qualification
CE, FCC, KCC
CE, FCC, KCC, CCC
Power Supply
AC 110 or 220V (Max.230 watt)
INPUT: 100-240V~,50/60Hz 1.5AOUTPUT: DC 12V 5A
OS Support
Linux, Windows 2000/XP/XPE, WEPOS, POS Ready, Windows 7
| | |
| --- | --- |
| | * Specifications are subject to change without prior notice |
---