POS Software , POS Hardware , varying Scales .
Thermal Receipt printers , price checkers, Scanners , solutions
There are many ways to goal, We create the optimal one.
The Reliable and Speedy High-Performance Mini Printer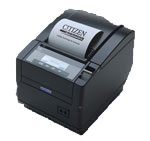 The first in a new line of revolutionary "Intelligent" printers, featuring the industry's first POS printer with a back lit graphic LCD display that communicates with you. It is ideal for a variety of applications from retailers, end users, resellers and software developers in any location or environment, the unit has increased functionality that opens doors to the universe. Out of Paper? The two-line LCD display alerts you: "Paper end" "Please change paper." Alternatively, if the front cover is open "F cover open" "Please close front cover." There is an "apps" provided to customize, change or edit the display message on LCD. "Paper near end" "Call 123-456-7890 to reorder"
Taking you straight to the cutting edge of technology, this printer moves at a previously unseen velocity of 300mm per second, providing the fastest printing results for customers. In addition, the CT-S801 can send the printer status back, has an USB-Hub interface to hook up another input device such as a signature or PIN pad or biometric scanner (finger print reader) to CT-S801 printer, not to the PC. With an internal memory large enough to store logos, footers, custom fonts, keywords and downloading custom applications, this unit has it all. The CT-S801 can be desktop or wall-mounted and comes standard with USB interface, RS-232 serial or Centronics parallel interfaces. Printer drivers included are: Windows XP (32 and 64 bit), Windows Vista (32 and 64 bit), Java POS, OPOS and CUPS.
■truly, unique printer: the industry's first POS printer with a backlit graphic LCD display communicates with you.
■The world's fastest, most reliable, easiest to configure and customize POS printer.
■300mm/sec providing the fastest printing results for customers.
Longer cutter life delivers lower maintenance costs
■Greater reliability delivers longer life & lower maintenance costs
■Wider paper width allows printing of additional information & larger fonts
■USB standard meets market standardization requirements
■2D/PDF417 bar code support allows wider applications
■Built in buzzer provides audible alert without adding extra cost devices
■Built in power supply eliminates unsightly "brick" and frees up space
■Printer drivers included are: Windows XP (32 and 64 bit), Windows Vista (32 and 64 bit), Java POS, OPOS and CUPS.
■Can be desktop or wall mounted.
■Three year warranty
■Same footprint as TM-T88.
LCD Display
LCD indicates the printer's status, button names, types of errors, and messages.
Installation of vertical or wall-mount, memory switch settings invert the LCD icons.
LCD and LED auto power OFF function.
Easy maintenace of printer head and cutter with using of LCD and LED messages.
Green color LCD for
"normal operation"
Red color LCD for "error happened"
| | |
| --- | --- |
| | |
| Operation panel | LCD display |
| | |
| --- | --- |
| | LCD display (normal and inverted images) |
LED
Green: Power is on.
Red: Operates in special modes or in errors.
Orange: Paper is low (paper near-end) or print head is hot.
Buttons and icon
FEED button: To feed the paper.
MENU button: Press and hold this button to access the momory switch setting mode.
PAPER LOW icon: It dappears when the paper roll is near its end.
LOCK icon: It displays when the MENU button is inoperative.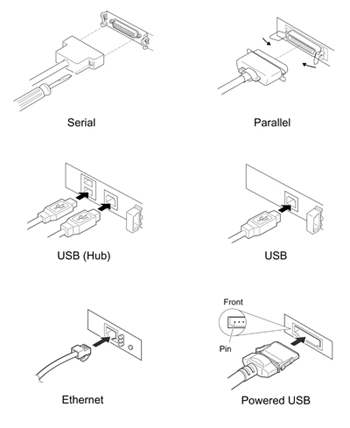 Specifications
Printing method
Line thermal dot print (direct thermal)
Resolution
8 dots/mm (horizontal & vertical), 203 DPI
Printing Speed
300 mm/s ( 2400 dot-lines/s )
Print Width
80 / 72 / 54.5 / 54 mm
Number of columns
53 / 48 / 36 / 35 columns - font A (default),
71 / 64 / 48 / 46 columns - font B,
80 / 72 / 54 / 52 columns - font C,
depending of memory switch
Character dimensions
1.50mm x 3.00mm - font A (12x24 dots)
1.13mm x 3.00mm - font B (9x24 dots)
1.00mm x 2.00mm - font C (8x16 dots)
Characters types
Alphanumeric,international, PC437, Katakana,
PC850, PC852, PC857, PC858, PC860, PC863,
PC864, PC865, PC866, WPC1252, Thai code 18
User memory
256 K bytes (capable of registering user
defined characters and logos)
Bar code types
UPC-A/E, JAN(EAN)8/13, ITF, Code 39,
Code 128, CODABAR, Code93, PDF-417, QR Code
Line pitch
4.23 mm ( 1/6 inch, min 1/203 inch )
Paper roll
Direct thermal paper roll, max.80 mm OD,
0.065 to 0.150 mm thickness
Cutter type
Guillotine, partial or full cut, 20 cycles/minute
Interface
Serial (RS-232C), Parallel (IEEE1284),
Full speed USB 1.1, Powered USB (DC24V, 2.3A),
Ethernet (10BaseT/100BaseT)
Input buffer
4K
Cash drawer
2 cash drawers are supported
Power supply
AC100-240V, 50-60Hz, 2.1A
Power consumption
150VA
Weight
Approx. 2.1 kg
Outer dimensions
145 (W) x 193 (D) x 148 (H) mm
Operating environment
5 to 45 C, 10 to 90%RH, no condensation
Storage temperature
from -20 to 60 C, 10 to 90%RH, no condensation
Reliability
Print head life = 200 million pulses
or 150 km, Cutter life = 2 million cuts
Installation
Horizontal, vertical or wall-mounted
Safety standards
VCCI, UL, FCC, CE, TUV-GS, CCC
Available drivers
Windows (32bit/64bit): 2000 / XP / Vista,
OPOS, JavaPOS, Linux CUPS
| | |
| --- | --- |
| | Specifications are subject to change without prior notice |
---